Bedrijfsreportage
Een goede bedrijfsreportage informeert, inspireert en zet aan tot actie. Dat geldt niet alleen voor teksten in vakbladen, maar ook voor de teksten op jouw website, in nieuwsbrieven en andere documentatie.
Een potentiële klant kijkt anders naar je bedrijf dan jij dat doet. Dat is logisch, want een klant moet jouw bedrijf, product of dienst nog leren kennen terwijl jij jouw verhaal tot in de kleinste details uit je hoofd kent.
Jij weet van de hoed en de rand. Het gevaar daarvan is dat je te snel de diepte in gaat en met vaktermen gaat strooien, terwijl je je tekst zo toegankelijk mogelijk moet houden.
Zorg dat de tekst zo geschreven wordt, dat jouw klanten precies te weten komen wat jij te bieden hebt. En schuif daarbij jezelf niet teveel naar voren. Voor een klant moet direct duidelijk zijn wat jij te bieden hebt. Wie jij bent, komt later. Het is immers niet voor niets een bedrijfsreportage.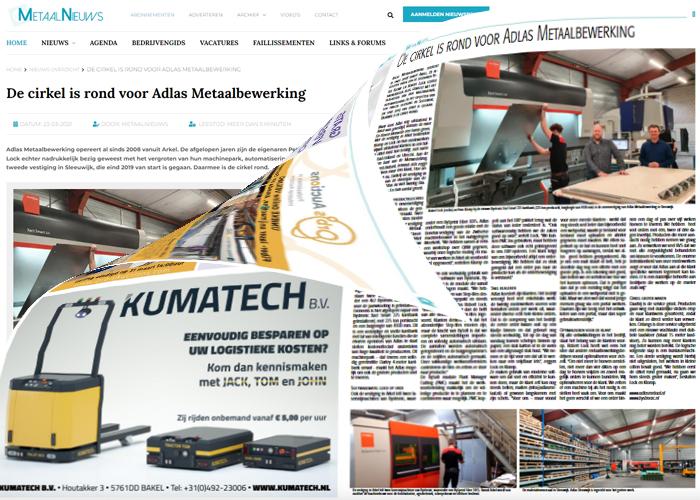 Ik heb een vraag over het laten schrijven van Bedrijfsreportages
Hoe bereik ik mijn doelgroep?
Heb je eenmaal een goede bedrijfsreportage, dan moet je echter nog wel jouw doelgroep weten te bereiken. Dit kan natuurlijk via jouw eigen website of social media kanalen. De kans is dan groot dat de bedrijfsreportage hoofdzakelijk terecht komt bij klanten en bedrijven die jouw bedrijf al kennen.
De doelstelling is natuurlijk om naast je bestaande klanten voornamelijk nieuwe potentiële klanten te bereiken binnen jouw doelgroep. Ook daar kan 54U Media, als de uitgever in de metaal, jou bij helpen.
Met onze vakbladen MetaalNieuws, PlaatBewerkingsNieuws en VerspaningsNieuws bieden wij een groot offline bereik voor uw klantverhaal. Met behulp van onze digitale MetaalNieuwsBrief (8.100 abonnees) wordt onze website MetaalNieuws.nl maandelijks door meer dan 35.000 bezoekers bezocht.
Daarnaast zijn wij met deze titels zeer actief op social media om zodoende het online bereik nog verder te vergroten. Op LinkedIn heeft MetaalNieuws inmiddels al meer dan 4.500 volgers.